Simone Guidi: the founder of La Sosta Coffee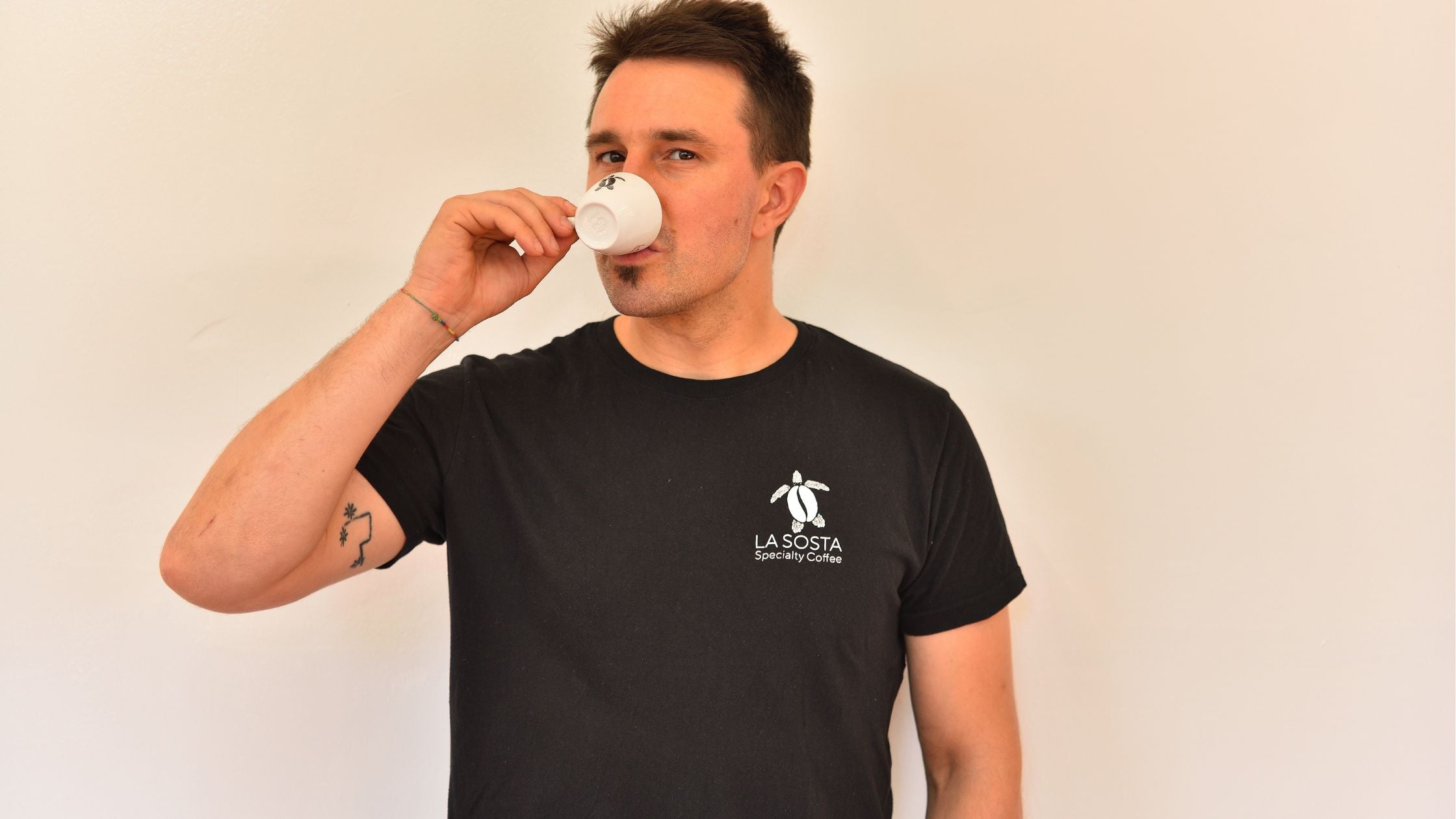 Let me introduce myself: I am Simone Guidi, the founder of La Sosta Coffee and a long-time coffee lover. I would like to tell you more about myself, how this interest in coffee roasting came about, and why I decided to start such an ambitious project.
Everything starts in 2012
It was 2012 when I first approached the world of cafeterias. I then started as a barista and, from 2013 until 2016, I took part in the Italian Cafeteria Championships, often reaching the finals.

But it was in 2014 that I discovered the beauty of roasting. After joining a renowned Florentine roasting company, my fascination with this sector intensified. Thus, I begin to work there and dedicate body and mind to it.
2015 is the turning point
Exactly ten days after taking 2nd place at the Italian Brewers Cup final, I decide to leave for Melbourne, Australia, the coffee capital of the world. Thus I decide to abandon home and put myself on the line. So I go back behind the counter of a café in Melbourne, where shortly afterwards I become head barista. A unique experience, but I am still not satisfied.

The time came for my first trip to a plantation, on Sumatra Island, Indonesia. This experience inspired me so much that I returned to Melbourne and worked as Assistant-Roaster in the Specialty Coffee Division of GENOVESE COFFEE. It was a unique journey that led me to learn more about the culture of Specialty coffees, as well as the secrets of roasting and tasting them.

But it is now time to return to Italy. In 2016, I decide to return to Florence with an important cultural baggage, returning to the artisanal roasting company I worked for in 2014. And this return pushes me even more to bring my dreams to life.
La Sosta Coffee brand is born
The right time has finally come to give space to my projects. With much effort and love, the La Sosta Coffee line of Specialty Coffee was born, which I produce and distribute in Florence. I also start offering training courses to companies.

Meanwhile, the pursuit of significant milestones continues. In 2017 I become Arabica Q-GRADER, a certified professional Arabica coffee taster. In 2018 I become COFFEE PRO, an industry professional figure supporting Dalla Corte, a Milan-based espresso machine manufacturer. Finally, in 2019, together with the Genovese Family, I open the company G100.


Opening of La Sosta Coffee Artisanal Coffee Roastery.
In 2020, I achieve a goal that I had been chasing for years, the result of my constant commitment to the industry: I open La Sosta Coffee artisanal roastery. Thanks to a team of experts and enthusiasts, La Sosta Coffee produces Specialty coffee for coffee shops and for people who are not satisfied when it's time to enjoy a coffee at home in comfort. But that's not all: it provides free tasting days to help even the inexperienced discover the beauty of this coffee. It also continues training for companies in the field who want to grow and discover new frontiers of taste.
Discover my personality through La Sosta Coffee's Specialty Coffees.
Within the Specialty quality coffees produced by La Sosta Coffee, you find part of my story, my journey and my self.

I invite you to taste them for free, to take the taste of coffee to the next level.